When the pandemic swept the nation, everything seemed like a mad shuffle. Positive cases were on the rise, loved ones were getting sick, and nobody knew what the virus entailed (or much less how to handle it). Businesses took a massive hit, and company owners soon realized that everything had to change. The way they ran their operations had to be revolutionized quickly enough to keep up with the times.
It wasn't long before Soleil Salon & Spa saw the effects of Covid-19 on local businesses. Clients began to panic as the disease became more prominent in our area by the day. Soleil, like everyone else, had to do everything we could to ensure that the business continued to run smoothly.
How We Survived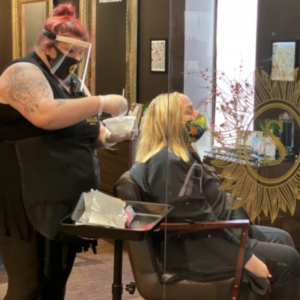 Our first move was mandating masks for all clients and employees. As recommended (and soon thereafter required) by the CDC, wearing masks would help reduce the amount of airborne Covid particles when interacting with our guests. Doing this would also provide that extra protection which made a lot of our clients feel more comfortable when coming into the salon. We kept this mandate for as long as it took to figure out how to most effectively ensure customer and employee safety.
We installed glass protectors between every salon chair, which acted as a barrier to minimize risk of getting the virus. This was more of an additional precaution to assure customers we were doing everything possible to give them a safe experience. We found that little things like this made such a significant impact.
We also wanted to make sure that we weren't getting a surplus of clients in the salon all at once. So, we pushed online bookings, and individually mapped out clients every day. We also encouraged customers to stay home if they were feeling sick. This would hopefully reduce the amount of Covid exposure within Soleil and make it a safer space overall. It was especially important to us that we developed the most considerate and safe environment for each of our loyal guests.
Soleil is constantly adapting to the changes of Covid-19, following every possible protocol. As of right now, all of our employees are continuing to wear their masks to provide comfortability for our customers. Even recently, the CDC has suggested that fully vaccinated people should continue wearing their masks indoors due to the delta variant of the virus. We completely intend to follow all guidelines in hopes of returning to normalcy soon.
For a long time, we were just trying to decipher what the "new normal" meant. Now, we are just grateful to be making it through, and we'll be more than ready if something like this ever happens again.