---
As fall quickly approaches, many of us are beginning to experience those dreaded annual hair setbacks. For some reason, it seems like a lot of hair-care progress is lost around this time each year. A simple explanation for this would be that the cooler weather tends to create an intense drying effect, forcing countless people to live with brittle, dehydrated hair. But where is the simple solution? If this is something you find yourself struggling with, prepare for the cold air with Aveda's Nutriplenish Set!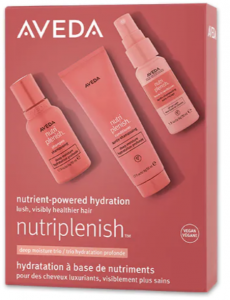 While the idea of cold weather being a hazard to hair may seem a little far-fetched, it's actually a proven phenomenon. You may not think you have to change anything about your hair routine, but in most cases, hair begins to lose its natural moisture and gets more frequent split ends as we near the winter months. Hair is very similar to skin in this way; routines should always switch up to accommodate for harsher environmental conditions.
With their signature all-natural ingredient list, Aveda has created the premium combination of products that will blend together to give you the hydrated hair of your dreams, no matter what time of the year it is. The Nutriplenish Set includes an oil, a shampoo, a conditioner, and a leave-in conditioner. Each of these products are infused with certified organic plant butters and hydrating oils, and are free from harmful chemicals. This infusion gives each product the power to instantly moisturize all types of hair, removing that rigid feeling once and for all!
By applying each of these products only a few times a week, you can achieve a natural solution to all your dry hair problems. Whether your hair is frizzy and voluminous or sleek and paper thin, this set was built for you; thereviews speak for themselves! Beat the dryness before it begins by purchasing the Nutriplenish Set on our website today.