---
The time has finally come for Aveda's annual breast cancer benefit. Each year during the month of October, Aveda puts together a fundraiser to support breast cancer research. If you've been waiting for a good reason to shop Aveda, there's no better time than now – it is breast cancer awareness month, after all!
This is how it works: Aveda has put out a limited-edition product called Hand Relief Moisturizing Creme. With every purchase of this product, Aveda will donate a portion of the proceeds to the BCRF, or the Breast Cancer Research Foundation.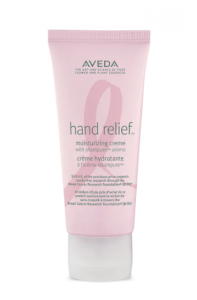 The product itself is made with a limited-edition shampure aroma, and it contains 25 pure flower and plant extracts. This unique blend, packaged compactly in a 100 mL bottle, moisturizes dry skin to its softest, smoothest state.
The BCRF is very personal to Aveda, as it carries many of the same principles (including the fact that their research is completely cruelty free). It is also the only organization in the country which focuses solely on funding clinical and genetic breast cancer research, according to Aveda's website.
Don't miss out on your chance to benefit an amazing nonprofit. Let's help the Breast Cancer Research Foundation get one step closer to finding the cure! Support the cause by purchasing Aveda's Hand Relief today, which is available on our website or in store at Soleil Salon & Spa in Windham, New Hampshire.