"Treat yourself": a phrase coined many years ago as an expression of self love and appreciation. You've seen it everywhere, including social media, the internet, and even TV shows like Parks & Recreation. While to some it may seem like a silly excuse to get out of work, for others it means a chance to reconnect with their inner selves.
We've all known just how hard it can be to take a step back. Sometimes we get into such a hard-wired routine in life that doesn't allow us to focus on anything other than work. But self care is so important, and treating yourself every now and then can change the way you approach things. 
To help you out, we've come up with the ultimate day-long system: "Soleil's 10-step Guide to Treating Yourself". We suggest following these steps for a day jam-packed with internal bliss!
1) Wipe your schedule clean.
Start your day right by removing everything from your schedule. This day should be all about pampering yourself and nothing else!
2) Turn off your phone for at least an hour.
On busy days, we often forget to give our eyes a break. An hour or more of no screen time can be hugely beneficial for your eyes and brain! You may even notice your headache fading away.
3) Take time to meditate.
Even if just for ten minutes in the morning or night, meditation can bring you balance and a positive mindset for the whole day. 
4) Spend money on something you don't need, but really want.
For a moment, allow yourself to stop thinking about how you spend your money. You deserve to buy something for just you. Our suggestion: buy yourself some Aveda skincare products. Your skin will thank you!
5) Relax with a massage or a facial.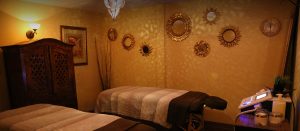 There is nothing more calming than a good massage! At Soleil Salon & Spa in Windham, New Hampshire, we offer endless kinds of massages and facials to cater to any need, each designed for a unique purpose.
6) Try a new hairstyle or get your nails done.
If  you're already at the salon, why not switch up your hair? With Soleil's many qualified hair stylists, you'll get a haircut that makes you feel like a brand new person. But if you're not particularly in the mood for a hairdo, we also offer manicures and pedicures! 
7) Do something active.
Getting active doesn't always mean intense exercise, but activity is extremely important for your mental and physical health. If you don't really feel like working out, you could go for a nature walk, or play outside with your pets. Either way, you'll achieve the serotonin boost that comes with being active.
8) Make it a cheat day.
If you're already taking a break from everything else, why not eat what you want to eat? Studies have even shown that the occasional cheat day can positively impact your relationship with food.
9) Take a long bubble bath.
Soothe your hard-working muscles by drawing yourself a bath. Pour in some aromas and products, and put on your favorite playlist as you treat this bath as a moment of solitude.
10) Watch your comfort movie.
Complete your day by watching your favorite movie. It'll be the perfect end to an accomplished day!
Maybe you feel drained and tired, or just bored and stuck in a rut. There are so many reasons why people treat themselves, and no reason is too small. Treating yourself will refresh your mind and make you happier to return to your routines. By switching it up every once in a while, you'll feel less tethered to your schedule and start appreciating life's little gifts.