–
Have you been dreaming of the ultimate spa day, or just a moment of tranquility without interruption? If you want to feel spoiled and extravagant, try splurging on a Soleil Spa Package! In the beautiful atmosphere of Soleil Salon & Spa in Windham, New Hampshire, our highly-trained estheticians and massage therapists will make you feel as comfortable and serene as possible.
To make it a little easier for you to imagine a spa day with us, here's a list of all our pre-made packages and what each of them include:
If your body feels sore and is in need of total refreshment, this option would be perfect for you!
Swedish massage 

Aveda Tulasara facial

Scalp massage

Aveda manicure & pedicure

Blow dry style
This package is ideal for deep cleansing and reconnection between your body and mind.
Botanical resurfacing treatment

River rock massage 

Aveda beautifying pedicure

Aveda beautifying manicure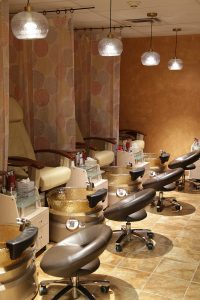 Specifically designed for (and most popularly used by) men, this package unfailingly leaves you feeling rejuvenated.
Men's relaxing facial

Aveda aroma massage 

Men's manicure & pedicure
If you just need a small pause from reality, but still want to feel pampered and relaxed, this option would be most suitable for you!
Aveda Tulasara facial 

Aveda aroma massage 

Aveda manicure & pedicure
This would be the quintessential selection for someone who wants a simple refreshment of their system.
Aveda aroma massage

Aveda Tulasara facial
For a little taste of the spa lifestyle, this option would give you that perfect moment of quietude.
Aveda tulasara facial

Aveda manicure & pedicure
Created just for teens, this package is the most calming way to take a much-needed break from schoolwork!
Aveda teen manicure 

Toe polish change

Shampoo and blow dry style 
If you like what we have to offer, we suggest coming in routinely to feel optimal results. For pricing and more information regarding each of these packages, you can check out our official website. But if none of these options seem ideal for you, you can create your own blissful spa experience with a customized package. 
To finally experience that dream spa day, try relaxing with us here at Soleil Salon & Spa!