–
Tulasāra is a Sanskrit word that means "moving towards balance", and we all know how hard that can be to achieve. So, Aveda has created a multi-use product to provide you just that. If your skin is begging for a little balance, try out Aveda's Tulasāra Oil!
Amongst the many reasons why people try this product, it is popularly used in facials. Even at Soleil Salon & Spa, our estheticians have taken advantage of the oil in facial massages for clients with irritated or unbalanced skin. Aveda's website suggests using it to massage the skin before cleansing. In turn, it could operate as an aid for self-implemented gua sha or jade rolling routines, both of which have proved incredibly effective for lymphatic drainage.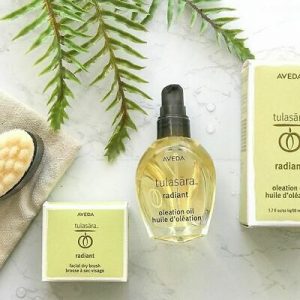 Tulasāra Oil also has a number of benefits to its name, aside from its flexible usage. This serum is designed first and foremost to bring back your face's natural radiance by restoring and nourishing your skin cells. However, it also promotes microcirculation: the increase of blood flow to the face, which creates a healthy glow and helps define features. It is for these reasons that Soleil utilizes Tulasāra Oil in some of our facials.
There are obviously many claims for this product that may make it seem a little too good to be true. So, we suggest letting the ingredients speak for themselves, some of which include: organic sesame, sunflower oil, jojoba seed, apricot kernel, rose hip, and sweet almond oils. Each of these have a particular dermatologically-tested purpose, and possess numerous restorative and balancing properties.
Unlike so many other products, Aveda's Tulasāra Oil contains naturally derived ingredients, each of which work together to bring an organic luminosity back to your face. Because of Aveda's passion for plant-based products, you can trust that these components will be the absolute best for your skin. For more information regarding this product, Aveda's website tells all! Move towards balance with Tulasāra Oil, found at Soleil Salon & Spa in Windham, New Hampshire.