---
Everyone on the internet is talking about this viral hairstyle: a fluffy, voluminous blowout, commonly seen as a callback to the '90s. Some of the inspiration for this look includes iconic celebrities like Cindy Crawford, Alicia Silverstone, and Denise Richards.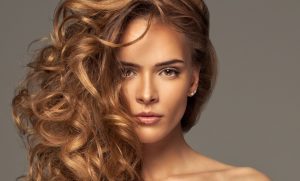 There's a common misconception that you have to have a certain haircut (i.e. curtain bangs and lots of choppy layers) to be able to sport the classic blowout. While this cut is certainly helpful, we're here to change the narrative. Your haircut shouldn't dictate your ability to play around with styles!
So, how can you achieve this hair? It's slightly different for everyone, of course, depending on hair texture and cut, but there are definitely some universal tricks to help you get that look you've been dying to try.
Start with some hair oils.

Using oils can improve the texture and sheen of your hair, which will not only make it easier for you to accomplish this look, but will also improve its overall appearance. Proper hair care is so important, especially because this blowout requires a lot of heat. We recommend this oil from Aveda; it will protect your hair while providing a show-stopping shine.
Straighten your hair before curling it!

Esp

ecially if your hair has a natural texture to it, the curling process can be made so much easier if you straighten your hair first.
Try a combination of curlers and an iron.

Not everyone can afford a Dyson Air Wrap! Not to worry, though, because curlers (as old-fashioned as they might seem) can create the same results. We recommend curling your hair with a traditional iron for the longer, thicker sections of your hair in large, loose sections. Then, go in with a set of curlers on the smaller pieces near the front of your face and leave them in until you achieve the desired effect.
An optional top-off would be to apply some additional oil at the end, which will give your hair that boost for a powerful effect. Finish it all off with a paddle brush through your curls, brushing outwards in slow, controlled motions. We hope that we were able to provide you with some useful insight and that you'll be testing out the style of the season soon!