---
People underestimate the importance of having a healthy scalp, as it truly determines the trajectory of a person's hair growth. What many don't recognize is that without taking proper scalp care, dead skin will start to accumulate at the roots, which clogs follicles and prevents healthy growth. So ultimately, you are much more likely to have strong hair if you have a nourished scalp first.
There are many reasons why Aveda's Invati Scalp Revitalizer is put to use, but some of the most common circumstances include:
If your hair feels dried out and brittle.

If you have recently had trouble with consistent hair growth.

If your hair has suddenly become thinner than it's ever felt before.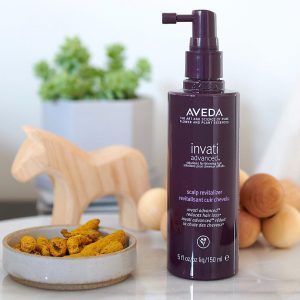 Not only does this product work to combat each of these problems, but it does so using natural, chemical-free ingredients that aren't typically found in other products on the market. Aveda's principles on organic product composure align greatly with the ancient healing art of India known as Ayurveda (as further explained on their website). The art intensely focuses on healing the mind, body, and soul from imbalances using natural herbal treatment, which has a massive similarity to Aveda's core beliefs. This philosophy remains true through any product of Aveda's, including the Invati Advanced Scalp Revitalizer.
This product in particular works so well due to its inherent ability to support the natural release of keratin within hair follicles. The best part about the revitalizer, though, is that it only has to be applied once a day, and it can be used on both wet and dry hair!
The Invati Advanced Scalp Revitalizer has numerous glowing reviews which commend Aveda for their heavily-researched ingredient list and effective results. Rebalance and hydrate your hair by purchasing this product on the official website, or directly at Soleil Salon & Spa in Windham, New Hampshire.